The Importance of exercising for seniors
As our bodies get older they start to slow down, lose metabolic response, lose strength, flexibility and balance. Regular exercise can help to maintain not only muscle mass, but also cardiovascular health.
Benefits of regular exercise include
· Improvement of mood and alleviation of depressive symptoms
· Aid in the possible prevention or delay of many diseases including heart disease and diabetes
· Rehabilitation for those with disabilities and arthritis
· Overall benefits that provide seniors with a better quality of life
The Hobart Police and Community Youth Club have two dedicated classes for seniors, Fit-ball and Senior Strength.
| | | |
| --- | --- | --- |
| Days | Time | Time |
| Tuesday - Fit Ball (Instructor- Jack McCann) | 9:00 -10am | 10:00 am- 11:00 am |
| Thursday - Fit Ball (Instructor - Ron Nylander) | | 10:30 am- 11:30 am |
| Friday - Senior Strength (Instructor - Jack McCann) | 8:30- 9:30am | |
Fit ball
A 60 minute session designed to benefit the participant using a Fit ball, also known as a Stability or Swiss Ball.
Working on a Fit ball is an excellent method for maintaining and improving balance, core strength, flexibility and posture.
Classes focus on gentle movements that work all areas of the body while incorporating strength and easy agility that help with stabilisation of joints.
Classes also include the use of light dumbbells while sitting on a Fit ball; enabling participants gain strength and balance at the same time.
Senior Strength
The Senior Strength class starts with a group warm up that includes easy marching movements and light dumbbell work. Participants then move to the Weights Gym for further resistance training.
New members who are participating for the first will undergo a simple induction for their first session. The induction enables new users to become familiarised with the pin loaded and hand held weights systems.
Once the participant becomes comfortable with technique and the equipment, they will then move from machine to machine in a circuit fashion, or if they wish, the trainer can design a custom program to suit.
At the end of the session the basketball court is made available to those who are interested in a few ball activities.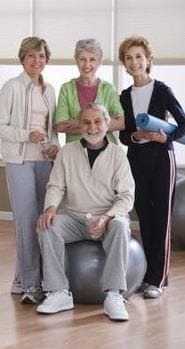 Class Cost 2018
$40.00 annual membership
$6.00 per class