ROCKET TOTS
Rocket Tots are 'Free Play' classes for 6 months to 5 year olds that encourages learning in a stimulating, encouraging and fun environment.
Warm-Up time: Movement to music.
Free Play: Utilising the gymnastics area and eqipment, children will get an opportunity to interact with other children,
play with balls, ropes, ladders, slides, swings, foam shapes, balance beams and trampolines and climbing obstacles.
Cool Down: Goodbye Music and dances (every participant receive a stamp at the end of the class).
CLASS TIMES
Monday, Wednesday, Thursday, Friday & Saturday: 9:15am
Wednesday: 10:30am (during school terms only)
Kindergym Fees
Membership & registration fee (per Calendar year): $60
Session rate:
$7.00 - Member
$5.00 - Concession card holder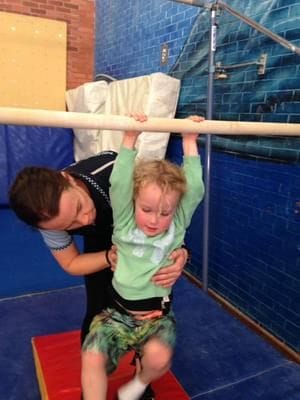 MINI MARTIANS
Mini Martians is a fun-filled introduction to gymnastics designed for 3.5 - 5 year olds.
These classes arefully structured and run by a Kindergym qualified coach.
Designed to aid in the development of gross motor skills through learning basic gymnastic movements,
Mini Martians also teaches children core stability and coordination.
Warm-up Time: Starting with gymnastics based stretches and shapes, then followed by a variety of fun activities and games,
sometimes incorporating balls, balloons, ribbons & music.
Session: children participate in challenging circuits, following the instruction of the coach with the help of their parent/guardian.
The class finishes with a game of hide and seek,and every participant receives a sticker
to put in their Kinder-gym book which they will reviece at their first session.
PLEASE NOTE Mini Martians is an ENROLLED class, bookings are essential.
CLASS TIMES
Monday, Wednesday & Thursday: 1:30pm
Friday: 11:00am
** please note that a parent or guardian must accompany and assist all children in both of these classes