Hobart PCYC NEWS 2017
Hobart PCYC NEWS 2016

Our PCYC General Manager Allison Ritchie had the pleasure of afternoon tea on Friday 4th November with Australian Prime Minister the Hon Malcolm Turnbull MP, Tasmanian Premier Will Hodgman, The Lord Mayor of Hobart Alderman Sue Hickey and other distinguished community members.

Image: PM Malcolm Turnbull, Hobart PCYC General Manager Allison Ritchie with other community representatives.
13th July 2016: Commonwealth Bank staff award Community Grant to Hobart PCYC to support Tasmanian youth
Media Release: Thursday 30th June 2016: Commonwealth Bank staff have awarded PCYC a 2016 Community Grant worth $10,000 for their work to support the health and wellbeing of Tasmanian youth.
PCYC is one of 229 youth-focused organisations around Australia that has received a 2016 Community Grant. Each Community Grant is funded by Commonwealth Bank staff through the Bank's workplace giving program, the Staff Community Fund.
Police and Community Youth Clubs (PCYC(s) steer young people into physically active experiences that build skills, character and leadership. For regional areas without permanent PCYC centres, the Mobile Activity Centre (MAC) is a mobile, custom-designed trailer that acts as a portable PCYC centre.
Loaded with fitness and recreational equipment, the MAC can support multiple communities with a range of activities. This Community Grant will help the PCYC Hobart to purchase and fit out a MAC trailer to support regional Tasmanian communities. By engaging 3,000 young people who are at risk, disadvantaged or disengaged with school, the MAC will create a healthy diversion that helps to prevent and reduce crime.
Maree Aitchison, Glenorchy Commonwealth Bank Branch Manager said: "Organisations like PCYC are wholly committed to the wellbeing of young Australians.

"It is a great source of pride for our staff and the Commonwealth Bank to support so many worthy programs in Tasmania through these grants. We are grateful for the generosity of more than 13,000 current and retired staff who donate to the Staff Community Fund to make this possible."
Since the Commonwealth Bank Community Grants initiative launched in 2007, $13.7 million in grants have been awarded to more than 1600 youth-focused organisations,supporting a range of programs across education, health and social inclusion.
The Staff Community Fund is one of Australia's longest workplace giving programs with staff contributing a nominal amount from their salary towards the fund, which is matched dollar for dollar by the Bank.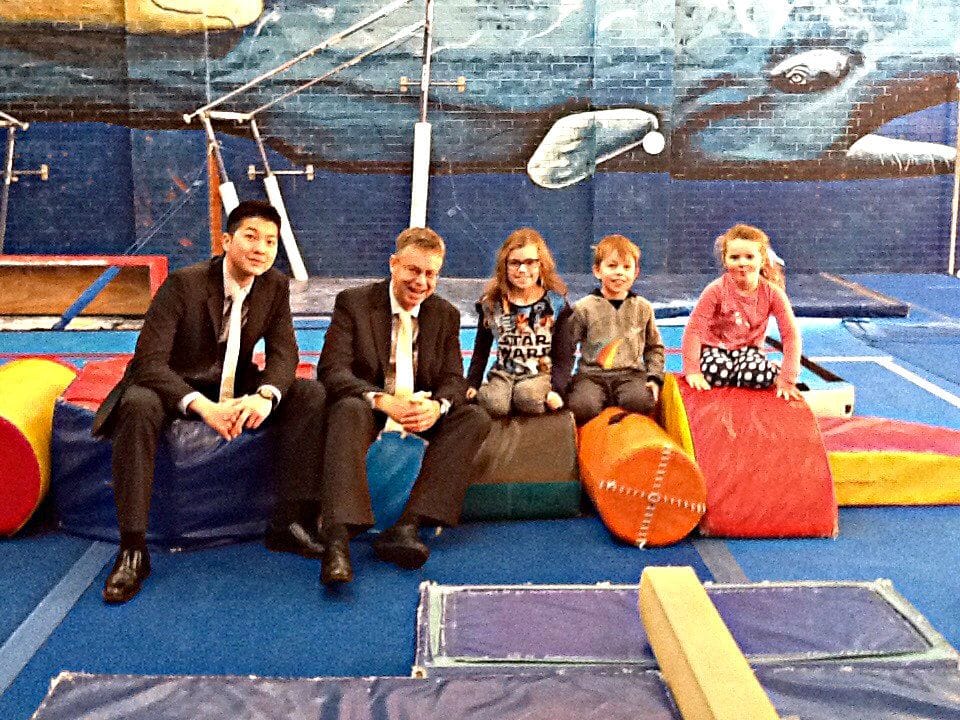 Christopher Rhee (Personal Lender), Don Ryan (General Manager CWB), Ruby, Thomas and Alice